Green Union Jack Heart with Cross and Vines and Roses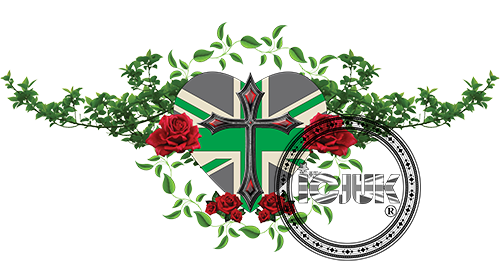 The ICJUK Green Union Jack Heart with Cross and Vines and Roses is a captivating and playful graphic designed by Claire Jane. This unique artwork features a vibrant green-toned Union Jack heart as its centerpiece, exuding a sense of energy and vitality. At the heart's core lies a striking cross, adorned with subtle hints of red, adding a touch of contrast and intrigue to the composition.
Surrounding the heart and cross are four elegant red roses, delicately placed to enhance the overall aesthetic appeal. Each rose symbolizes beauty, passion, and love, while their bold red hue adds a captivating pop of color to the design. Interwoven between the roses are lush green vines, gracefully winding their way around the heart and cross, evoking a sense of growth, vitality, and natural beauty.
Claire Jane's artistic creation brings together elements of spirituality and nature in a harmonious and visually engaging manner. The combination of the iconic Union Jack, the cross, roses, and vines creates a captivating narrative that celebrates the enduring beauty found in nature. This fun and eye-catching design are perfect for individuals who appreciate unique and vibrant artwork that reflects their connection with the natural world.
Green Union Jack Heart with Cross and Vines and Roses