Be Epic!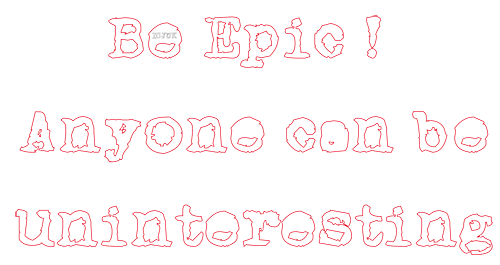 A playful and spirited graphic designed by Claire Jane, which reads "Be Epic! Anyone can be uninteresting" in bold white lettering outlined in vibrant red. The words are situated on a black background, creating a bold contrast that draws the eye to the message.
This design has a fun and cheeky vibe, embodying a playful sense of humor and encouraging people to embrace their individuality and uniqueness. The use of bold lettering and vibrant color creates a sense of energy and enthusiasm, encouraging the viewer to feel inspired and empowered.
Overall, this design captures the essence of ICJUK.com's philosophy – to create a space that celebrates individuality, creativity, and self-expression. It's a fun and playful reminder to be true to yourself and to always strive to be epic.