Monica Greb
A just got my new handbag from ICJUK ! WORTH THE PRICE!!! Its perfect for me. The perfect on the go bag! Plenty of room and pockets! Nothing will get lost. Claire has knocked it out of the park once again! I have NEVER had any complaints of items that I have purchased from ICJUK over the years. Definitely a life time customer.
Ann DiSanto
Gorgeous! Black and White Leopard with Leopard Print Hoody AND Union Jack Black and White Leopard all over print Womens V nek Tee. I am so thrilled with these 2 items, I love them! The designs are unique and gorgeous! The sizing was perfect.
The hoody is so soft inside and I love that the hood has the leopard print on the inside. The tee is stunning! The colors are vibrant and the fabric is soft and very comfortable.
I have shopped with Claire before and every time is a fantastic experience. Her products are beautiful, one of a kind and of great quality. Customer service is phenomenal!
Oh, and I am addicted to Claire's bracelets, lol! I have several and absolutely love them and receive many compliments.
Tears to My Eyes
I can't tell you when the last time I've received such a special gift that brought tears to my eyes,our sister Sandy Wood was always someone who'd always have anyone's back and this is more precious than I could ever imagine,words can't even express what this means to me. Thank you so much for being the best twin brother,love and appreciate you thank you Ocean Anarchy by ICJUK for making me this beautiful custom made hoodie.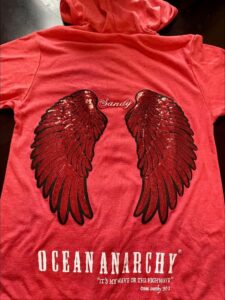 Amber J Burkhart
♡♡♡♡♡♡♡♡♢♡♡♡♡♢ Claire and her line♡♡♡♡♡♡♡♡♢ Women in business, watch out. She could take over the world!
Garry Crowley
Got Joe's tshirt for our tribute band Hysteria (Def Leppard)
Scotland
Lucinda Meeks Wells
Love my new design pieces from ICJUK! Wonderful to meet you. Looking forward to your latest creations.
Lija Cerbulis Day
Amazing, love it. Thank you Claire for sharing your talent with the world!!!!!!!
Crista Chadwick White
I've just made my third purchase from ICJUK and fall in love with her items over and over again. The quality is unmatched and the feel of the material she uses is heavenly. My items always arrive quickly, with a sweet personalized touch. ICJUK (and Claire Jane) are Britain's gift to the world of fashion
Suzanne Leigh Terrell Metcal
Items are always good quality and ships quickly. Customer service is great and keeps me coming back. It is a pleasure to shop here.
Amanda Deacon
ICJUK always has Fantastic product and amazing service.
Kim Brown
Beautiful designs by a very lovely lady. Thanks for the opportunity to shop and meet you Claire.
Tammy Thiessens
ICJUK completely ROCKS!
Top quality merchandise with amazing customer service… Doesn't get any better! I love ever piece I own and recommend to everyone!
Scott Wellington
The place is fantastic. The hoodie is brilliant. Soft, warm and with a fabulous design on it. Thank you Claire. : )
Monica Greb
I recently visited ICJUK HQ in Las Vegas, NV. The showroom has so many items to take delight in. The handmade feathered handbags match the photographs, but the love that goes into these products are seen in person. This is something the pictures cannot express. I peek and saw the Silver Skull Bell Top. I admitted to Claire that this was my absolute favourite! She urged me to try it on. Now I am not a "skinny" girl. It did look smaller than I would have tried on, But I gave in. I was amazed how it fit my curves. The sleeves made my feel like an angel with wings! I bought it on the spot.
This top is AMAZING! It is AWESOME! I LOVE IT! This handmade piece by Claire is everything and more than I could have hoped for. and YES, I am VERY HAPPY with this piece! I cannot wait to return there!
Maripat Biles
I Probably have over 10 orders plus just received my Flaire Kicks. Excellent in every way possible!!
Kim Shamblin Breegle
Great designs, Great on shipping,never disappointed with my purchase.
Robin Mann
ICJUK shirts are top notch.
Cindy Landers
TOTALLY loved every thing I've ordered!! Everything holds up great wash after wash!! I have several tank tops, t-shirts, and ESPECIALLY love ALL the scarfs and scarf tops and the jackets I've gotten! IT'S ALL ROCKING STUFF!!!
Jenny Daniels
Thank you Claire Jane for my fab bags and Tee. Excellent service and lovely lady. Just need some sunshine now to show them off. Lots of Love xx
Brooke Loyd Thomas
LOVE my new tank!!!!! It really is like wearing piece of art!